Ordering a Repeat Prescription
To request a repeat prescription, please follow the guidelines and choose the right option for you.
Please allow 72 hours (Three working days), excluding bank holidays, for your prescription request to be processed.
We do not accept repeat prescription requests over the phone.
Owned and run by the NHS, the NHS App is a simple and secure way to access a range of NHS services on your smartphone or tablet.
The simplest and quickest way to order your repeat medication is by using the NHS App which links directly to your Prescription record at the Practice.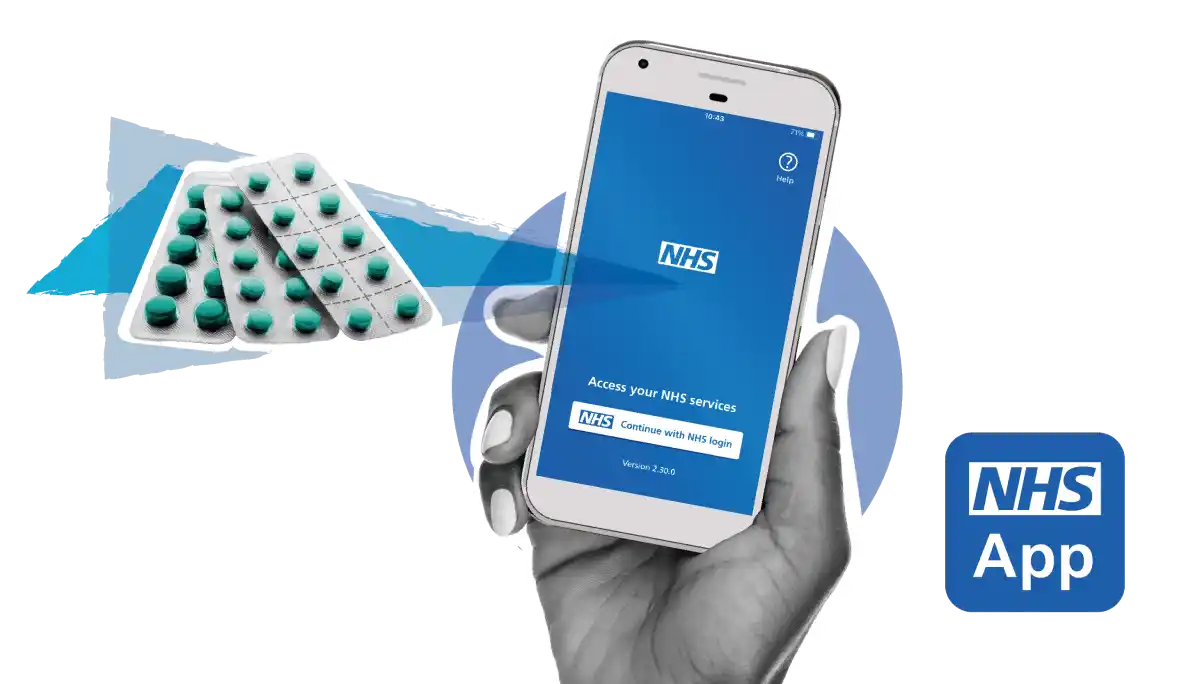 The simplest and quickest way to order your repeat medication is by using our online service - Patient Access which links directly to your prescription record at the Surgery.
You will need to log onto Patient Access.
If you do not have an account you will be prompted to create a log-in.
After creating a log-in you will be able to order your repeat medication directly from your medication listed on our clinical computer system.
Order your repeat prescription via our online Repeat Prescription form. No account is required.
Request a Repeat Prescription Online
Click on the link provided above. 
Fill out your details within the online form.
Once you have completed all the details click the "Submit" button to send your submission to us.
Please allow for 5 working days for our staff to answer your request.
Pharmacy Ordering / Collection Service
Pharmacies offer a prescription collection service from our Practice
Your pharmacy can also order your medication on your behalf. This saves you time and unnecessary visits to the Practice. Please contact the Pharmacy of your choice for more information if you wish to use this service.
You can order in person by returning the right-hand half of a previous prescription for the required medications.
Alternatively you can submit a handwritten request. You may also write out an order for someone else, providing you include the patient's name and date of birth and requested medication.
You can post your prescription slip or written request to us at the Practice
You must include a stamped addressed envelope for return by post if you will not be able to pick up your prescription from the Surgery. Please allow at least seven days if requesting your medication by post.
If a stamped addressed envelope is supplied, your prescription can be returned via Royal Mail. Find our postal address.
Repeat Dispensing
If you, or someone you care for, use the same medicines regularly, you may be able to benefit from repeat dispensing from your pharmacist. This means you won't have to visit the surgery every time you need more medicines. The service is also referred to as the Electronic Prescription Service (EPS)
Medication Reviews
Medication reviews are needed, usually every 6 or 12 months and we shall ask you to make an appointment with the doctor or nurse.
There are certain important checks we need to perform to ensure your medicines are still doing their job and are not causing any problems and that your condition is monitored.
When the computer indicates a review is due, please do not delay as the computer blocks any further issues once you are overdue.
If you have been unable to come in time, please do not stop your medicines; let us know the circumstances and we shall issue a prescription to keep you going.
Find Other Information
Hospital Outpatient Prescriptions
These are commonly given as requests to the GP to prescribe, though sometimes the prescription will be intended for dispensing at the hospital pharmacy, especially if the need is urgent or the drugs are for hospital supply only.
Taking your medication abroad may require you to take a letter of authorisation with you, even in Europe. Every country has its own rules and it can be complex. Make sure you check in good time.
There is of course a huge range of useful non-prescription medicines available at chemists, but if you run out of a regular prescription medicines you can obtain a supply out of hours without a prescription from a pharmacist or other source so you should never be without – this could be dangerous.
There are a selection of local pharmacies that will be open late.
Out of Hours Emergency Contraception
There are a variety of methods available, but it is essential you use it as soon as possible after the event for best results.
You can get the emergency contraceptive pill and the IUD for free from:
GP - we will always fit you in urgently, please ask at reception.
Your local Contraceptive Clinic
A Sexual Health Clinic
Some Genitourinary Medicine (GUM) Clinics
Some Young People's Clinics call 0800 567123
You can also get the emergency contraceptive pill free from:
Many excellent and important medicines are available Over The Counter (OTC) at pharmacies. They do not not need to be prescribed by a Doctor and indeed you can save yourself a lot of money as many are cheaper than the Prescription Charge. Pharmacists are highly trained in giving sensible advice about self-help for minor illness, please ask them.
The NHS in NW London ICBs: Brent, Ealing, Harrow, Hillingdon, Hounslow, Hammersmith & Fulham, Kensington & Chelsea, and Westminster spent over £13 million in 2016 on products that can be bought without a prescription at community pharmacies.
The NHS is under pressure. Our budgets are not large enough to pay for all the treatments the public would like us to provide. We would therefore like to spend less on medicines you can buy without a prescription so as to free up funds for other valuable NHS services.
Practices across North West London are being asked to stop routinely prescribing medicines which are available to buy over the counter in pharmacies (and, in the case of some medicines, in supermarkets and other shops too). If a medicine you need can be bought without a prescription, your GP may ask if you are willing to buy it. If you are not willing to buy it, it will be prescribed.
Private prescriptions from another doctor should normally be cashed at a pharmacy. We are not obliged to convert these to NHS prescriptions. Once you are established on the medicines we can provide repeat prescriptions on the NHS as normal provided we have received written information from that doctor and that we judge the prescription is appropriate. Some prescriptions may be for medication which is not in our practice drug formulary and we may substitute it for something similar.
Ask us to help synchronise your medicines so you can request them all in one go.
Certain medicines such as the Contraceptive Pill or HRT (Hormone Replacement Therapy) can be supplied in 6 month quantities for your convenience but to do this the nurse or doctor may need to see you.
Non-repeat medicines, which you may have only occasionally, can be requested on a medication request form or online request but we may ask to see you.
Your Home Medicine Cupboard
It is well worth keeping a small stock of useful medicines at home in your (locked) first aid cupboard. For instance, pain killers (analgesics) such as Paracetamol, Ibuprofen or aspirin (children under 16 and people with asthma should not take aspirin), or Ibuprofen syrups for children, Mild laxatives, Anti-diarrhoeal medicines, Indigestion remedy (for example, antacids) Travel sickness tablets, and Sunscreen – SPF15 or higher Sunburn treatment (for example, calamine).
We use cookies to help provide you with the best possible online experience.
By using this site, you agree that we may store and access cookies on your device. Cookie policy. Cookie settings.
Functional Cookies
Functional Cookies are enabled by default at all times so that we can save your preferences for cookie settings and ensure site works and delivers best experience.
3rd Party Cookies
This website uses Google Analytics to collect anonymous information such as the number of visitors to the site, and the most popular pages.
Keeping this cookie enabled helps us to improve our website.